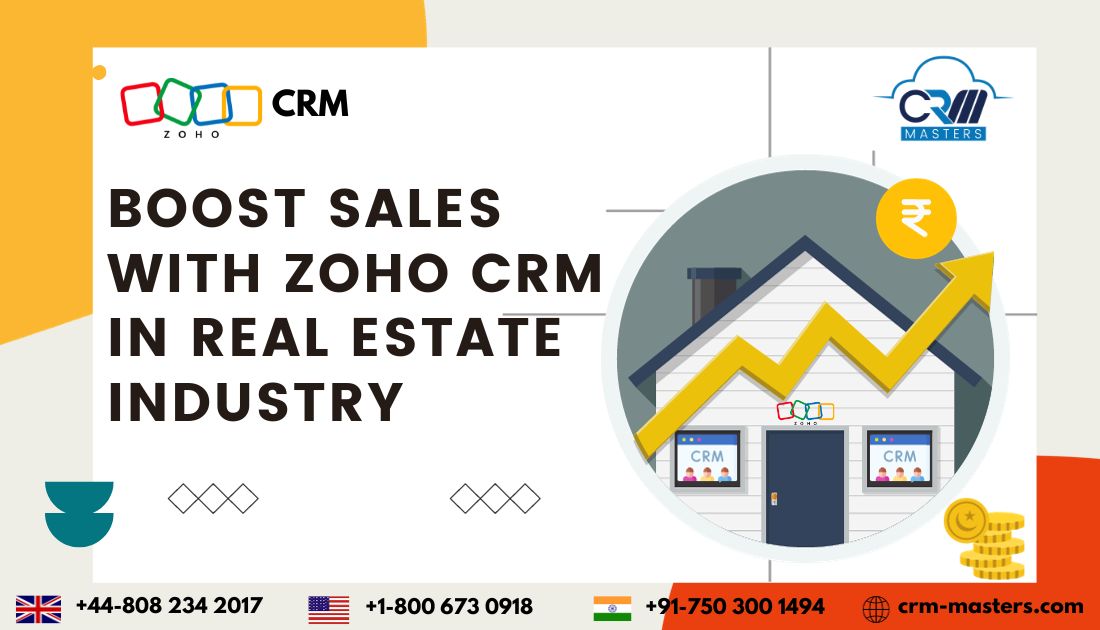 November 16, 2023

admin

0
Zoho CRM For Real Estate Business
Zoho CRM provides a comprehensive suite of services designed to meet the needs of real estate professionals, from agents to developers to brokerage firms. It has the latest technology to streamline sales processes, manage real estate assets, and automate processes. With this comprehensive platform, real estate professionals can maximize their success and bring home more deals by using Zoho CRM for real estate industry.
What is Real Estate Zoho CRM Software?
Real estate Zoho CRM software helps you keep track of all the different people involved in the real estate market, like buyers, agents, sellers, brokers, developers, and financial institutions. It's designed to handle all the different needs of agents and firms in the real estate industry, from handling incoming requests to getting price quotes. It can also help with commercial real estate sales and property management. It is a CRM system that handles everything in a real estate agency from start to finish.
How is CRM important for Real Estate?
In the real estate industry, trust is a key factor in the success of any business. This is evidenced by 82% of new property sales being based on referrals from current or former contacts, clients, family, or friends. Furthermore, the process of selling or buying a property is a lengthy one, with numerous follow-ups and renegotiations. Therefore, the implementation of Real Estate CRM software allows realtors to effectively manage contacts, organize tasks, track their pipelines, and remain organized to foster relationships and secure successful deals.
What are the Benefits of Zoho CRM for real estate businesses?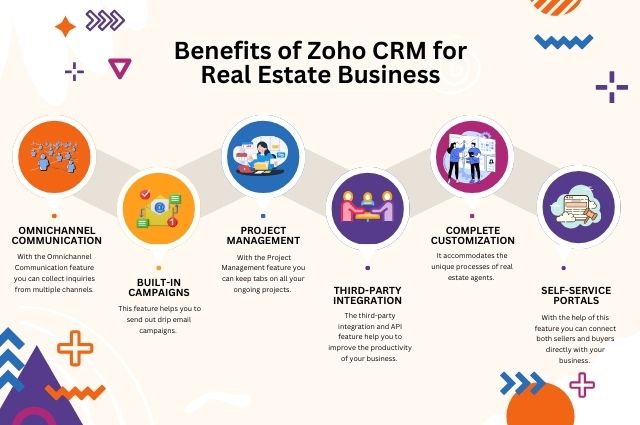 Zoho CRM has various benefits for real estate businesses. Here are some of them given below:-
Omnichannel Communication:- With the Omnichannel Communication feature, you can collect inquiries from multiple channels.
Built-In Campaigns:- This feature helps you to send out drip email campaigns.
Project Management:- The Project Management feature lets you keep tabs on all your ongoing projects.
Third-Party Integration:- The third-party integration and API feature help you improve your business's productivity.
Complete Customization:- It accommodates the unique processes of real estate agents.
Self-Service Portals:- With the help of this feature, you can connect sellers and buyers directly with your business.
How does Zoho CRM Boost Sales in The Real Estate Industry?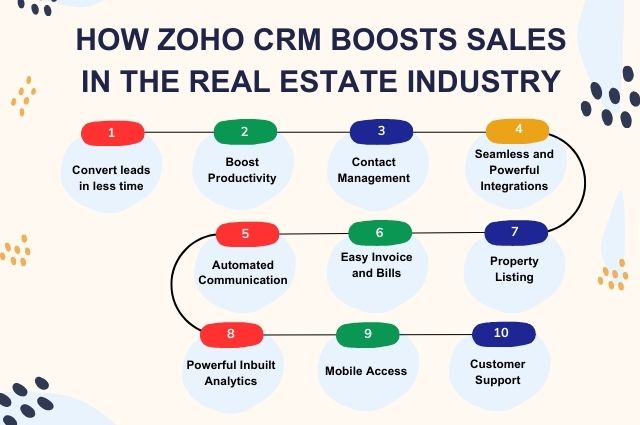 Zoho offers a range of features and tools to assist real estate professionals in streamlining their operations, improving customer relations, and ultimately increasing sales. This CRM platform has the potential to be a powerful tool for real estate professionals, providing them with the tools and features they need to increase their sales. The following are some of the ways that Zoho can contribute to the success of real estate businesses.
Convert leads in less time:- Zoho CRM allows you to generate leads from various sources, including social media, offline, business card, and online, and track their progress until they become prospects. The Lead scoring feature allows you to identify prospects that your team should be focusing on. When an inquiry enters your pipeline, automated email responses can be set up to nurture the lead and increase engagement.
Boost Productivity:- You can allocate leads to sales reps automatically using pre-defined workflow rules based on your territory, industry, and potential deal size. You can even use round-robin rules to assign leads to different sales reps. When a lead comes into your CRM, you can notify the assigned sales representative. You can also set up tasks and reminders for follow-up. You can also automate follow-up emails and notifications to give sales representatives more time to close deals.
Contact Management:- Real estate agents and brokers can keep comprehensive contact histories of clients and prospects, including property preferences, budget, and communications history. This allows for more personalized and tailored interactions.
Seamless and Powerful Integrations: You can organize and manage your entire sales process from a unified Zoho Customer Relationship Management (CRM) interface. The complimentary Zillow integration provides a comprehensive overview of any property's location, address, cost of ownership, comparable homes, Zestimates, and more. The feature Zoho Phonebridge allows users to select from more than 50 telephony providers, including RingCentral and Vonage, as well as Amazon Connect. Additionally, Zoho CRM for real estate is integrated with Click-to-Call, automated Call Recording, Call Logging, and Analytics to increase your business.
Automated Communication:- Zoho CRM's automation capabilities allow agents to provide automated emails, notifications, and reminders to clients, thus keeping them informed and engaged throughout the purchasing or selling process.
Easy Invoice and Bills:- With Zoho CRM, you can automate your sales cycle by allowing your team to generate and store quotes, invoices, price books, and bill information in their accounts. Zoho for real estate allows you to manage all your post-sale processes with powerful inventory management features. You can also share your quote and invoice information with prospects through custom email templates and invoice templates.
Property Listing:- Zoho CRM integrates with property listing databases so that agents can easily access and share property data with clients, ensuring that clients are always aware of available listings.
Powerful Inbuilt Analytics:- With more than 40+ pre-built reports, you can track every stage of your sales funnel – from campaign expense to deal closing. With Zoho CRM's Analytics, you can monitor progress towards your sales goals, agent activity reports, compensation adjustments, and missed deals in the pipeline. You can create revenue projections based on your regions, measure key performance indicators (KPI) with target meters, and monitor lease expiration.
Mobile Access:- Zoho CRM has a great mobile app that helps you stay connected with buyers and sellers. You can scan QR codes and business cards from your phone and add them as leads or contacts. Also, you can set up follow-up meetings and use pre-made email templates to contact prospects quickly. You can also get real-time reports and insights on sales performance, schedule meetings, add tasks to follow-ups, and even find prospects even when you are present in the office.
Customer Support: Zoho CRM provides customer support features that help agents promptly address client inquiries and issues, enhancing client satisfaction and loyalty.
Conclusion
Zoho CRM for real estate businesses provides a powerful suite of features and benefits that can significantly boost your real estate business sales. Its analytics and reporting capabilities enable data-driven decision-making, leading to higher sales and better customer service.
Need Support?
As a Zoho Premium Partner, we are committed to providing you with the best service and support to maximize Zoho CRM's potential to boost your real business to new heights.