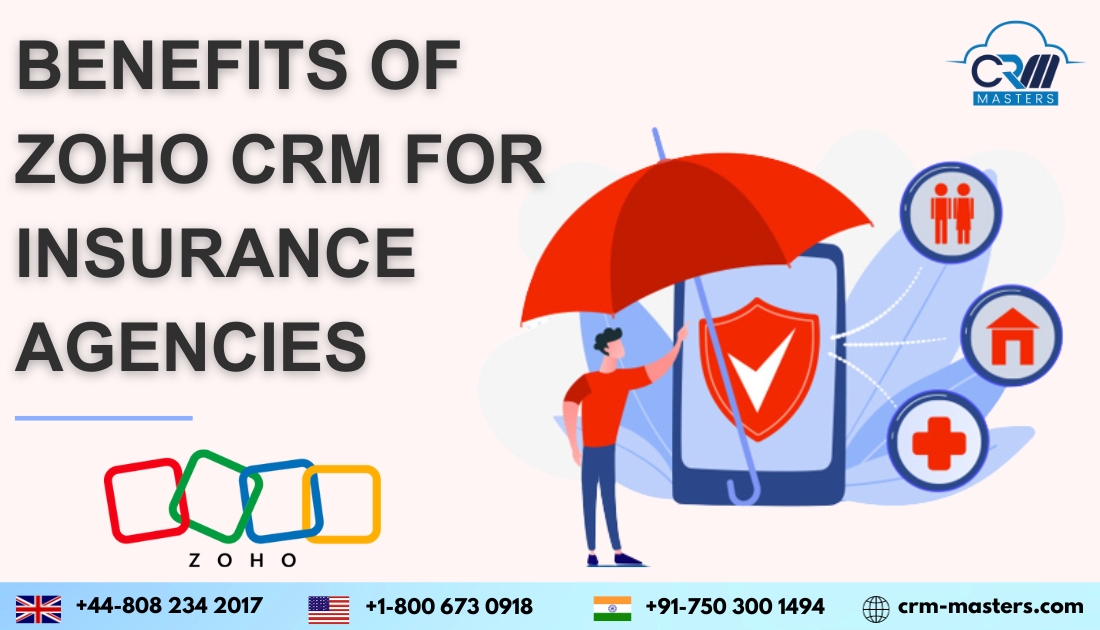 November 17, 2023

CRM-Masters

0
How Zoho CRM Can Help Insurance Agencies
The insurance sector is one of the biggest in the world, with a worldwide market value more significant than the GDP of some nations. Due to the complexity and massive importance of the insurance market, insurance firms always encounter new problems.
In light of these difficulties, insurance experts are searching for fresh and original insurance solutions to the issues they run against their business. Zoho's customer relationship management tool provides tried-and-true solutions to many of these typical issues. In this blog, we will learn how to utilize Zoho CRM  insurance sector and list the advantages of Zoho CRM for Insurance Agency.
What is an Insurance CRM?
A CRM for insurance is a service that caters to the particular requirements of insurance brokers and insurance companies. You can arrange leads and claims, automate assignments for appropriate individuals, and manage several policies inside a single platform. With robust desktop and mobile features, you can complete sales and establish long-lasting partnerships.
How is CRM Important For Insurance Agents and Brokers?
The insurance industry is very competitive. By offering a superior customer experience, communicating in context, and handling claims efficiently, insurance agents and brokers may earn the trust of their potential clients. A CRM makes it easier for insurance companies to keep track of opportunities, organize prospects, and automate tasks so that they can concentrate more on serving the requirements of their clients.
How Do You Choose The Right Insurance CRM for Your Business?
Before selecting a Customer Relationship Management (CRM) provider, it is essential to consider various elements, including functionality, pricing, user experience, and business objectives.
The following some essential steps are given below to know which CRM is right for your business:
Identify Your Business Needs:- To decide which CRM features and modules would be helpful, you can list the business difficulties you wish to address. You can speak with your sales and customer service teams to determine how they handle client connections and data. That will make it more transparent how a CRM may make their jobs easier and boost sales. A CRM system may boost your performance when you have distinct company objectives.
1. Ask for Feedback from All Potential Users:- Although the insurance sales team is the primary user of a CRM system, it's crucial to get input from other possible users, including the marketing and service departments, to see whether it would benefit the entire team.
2. Mobile Accessibility:- In today's digital world, mobile accessibility is essential for your business growth. You have to ensure the CRM you have selected for your business has a mobile or responsive design so that you can access critical information while on the go.
3. User-Friendly Interface:- Your CRM should be user-friendly when accessing your insurance industry. A complex or confusing interface can hinder adoption and productivity. You can test the software's user interface to ensure it's intuitive.
4. Customer Support and Training:- You have to evaluate customer support and training offered by the CRM provider. You have to ensure that they provide adequate resources and support during and after implementation.
5. Data Security and Compliance:- Select the CRM that gives sensitive data security and compliance. Check the CRM that complies with industry regulations and offers robust security features like encryption and access control.
Best CRM for Insurance Agency
Zoho CRM is the best CRM software for Insurance agencies. It offers a wide range of features designed to address the specific needs of insurance agencies. Below are the points that tell you some significant benefits of Zoho CRM software for your insurance companies
How can Zoho CRM Software benefit your Insurance Business?
Zoho CRM Software for insurance companies helps agents streamline administrative tasks, enhance customer communication, and gain valuable insights to make informed decisions. Here are several ways in which CRM software can benefit the insurance business:-
1. Centralized Customer Information:- Zoho CRM provides a centralized repository for client data. Insurance agents may quickly access and update client data, including policies, contact information, and conversation logs. It enables a more individualized and informed approach to client interactions.
2. Improved Customer Engagement:- Zoho CRM systems enable agents to track client interactions, including emails, phone calls, meetings, and notes. This information helps agents understand client needs, preferences, and concerns, facilitating meaningful and relevant conversations.
3. Lead Management:- One of the essential features of any insurance agency is lead generation and management. Zoho CRM simplifies this process by providing lead capture, categorization, and tracking tools. Insurance agents can easily import leads from various sources, such as websites, social media, or purchased lists, and then assign them to specific agents or teams. This streamlines lead distribution and ensures that potential clients are contacted promptly.
4. Integration with Other Tools:- Zoho CRM can integrate seamlessly with order Zoho products and third-party applications. You can connect your Insurance agencies with CRM, email marketing platforms, accounting software, and other tools to create a comprehensive and efficient ecosystem. This level of integration can save time and reduce data silos within your agency.
5. OmniChannel Communication:- Zoho CRM provides omnichannel communication for optimal customer engagement. It ensures you can engage customers through email, phone calls, live chat, and social media. A combined view of all past interactions with real-time notifications across all platforms enables your team to assist customers with any content.
6. Seamless Integration:- With the help of Zoho Suite and open REST APIs, you can build your integrations for your insurance agencies.
7. Mobile App:- Your Insurance agents are often on the go, meeting clients and prospects outside the office. Zoho CRM offers mobile apps allowing agents to access client information, schedule appointments, and update records while moving. This mobile accessibility makes your agents more productive and responsive.
8. Automated Workflows: Zoho CRM helps insurance agencies automate repetitive tasks and processes. This feature manages follow-ups, sends policy renewal reminders, and handles claims processing. Automated workflows can reduce manual data entry, minimize errors, and improve the efficiency of your agency operation.
9. Manage Multiple Policies in the Same CRM:- Zoho CRM can handle customer data for multiple policies inside with multi-page layouts and conditional fields. You can set up layouts for your policy offerings to push data to the right policy. It helps keep policyholders organized, allowing a complete view of different policies a customer may be signed up for.
10. Quick Resolution:- Resolving a claim request as soon as possible is essential for customer satisfaction. In the Zoho CRM, the assignment rules ensure that the claim is assigned to the appropriate person, and the approval processes guarantee that the claim is approved correctly.
Conclusion
In a highly competitive industry like insurance, having the right tools and systems in place can make all the difference. Zoho CRM for insurance companies is the best solution for managing leads, nurturing client relationships, automating processes, and gaining valuable insights from data.
Do you want to implement Zoho CRM for your insurance agencies?
CRM Master's Infotech is a Zoho Premium Partner that can provide exceptional services to its clients.