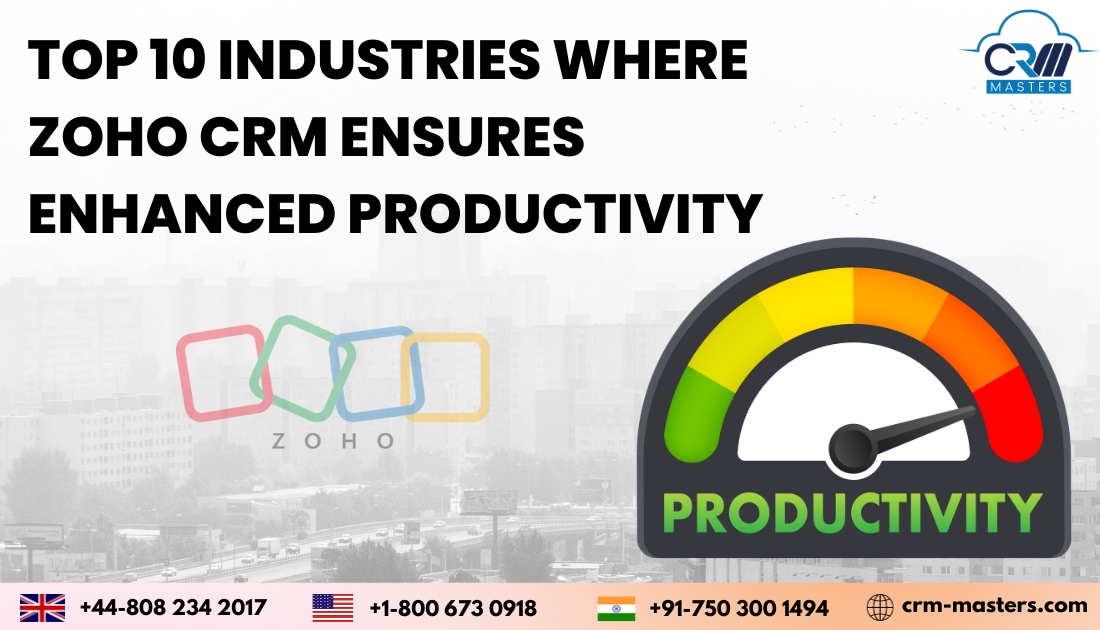 November 21, 2023

admin

0
Top Industries Where Zoho CRM Ensures Enhanced Productivity
Customer Relationship Management (CRM) encompasses various activities that necessitate digital intervention. Building and sustaining strong customer relationships is essential for long-term success in today's competitive business world. Zoho CRM Features help businesses thrive in this ever-changing landscape.
In this Blog, we'll walk you through the ins and outs of the Zoho CRM platform. It will give you the knowledge and skills to master this critical customer relationship management tool. No matter how big or small your business is, this blog will provide a roadmap to understanding the wide range of benefits that Zoho CRM offers for different industries.
What is Zoho CRM?
Zoho CRM, or Customer Relationship Management (CRM), is a powerful, feature-rich CRM software for businesses. It's designed to help you manage your interactions with your customers. As one of the top CRM solutions today, Zoho provides a centralized platform to help you streamline your sales processes, improve customer experience, and increase overall productivity.
Zoho CRM enables businesses to collect and store vital customer information, including contact details, communications history, and purchase information, all in one location. This gives businesses a 360-degree view of every customer, allowing them to provide personalized experiences and build long-lasting relationships. Zoho CRM provides many powerful features to help businesses manage their customers efficiently. These features include Lead and contact management, Sales pipeline tracking, Email integration, Social media integration, Performance Analytics, Automation Lead scoring, Email workflows, and Follow-up reminders.
It's all about giving businesses the tools and info they need to manage their customer relationships better to keep growing and make customers happy.
What Does CRM Software Do?
Customer Relationship Management (CRM) software is essential for businesses to manage and optimize customer interactions. It is a central platform consolidating and organizing customer data, allowing businesses to understand and engage with customers more effectively and comprehensively.
Zoho CRM provides a comprehensive suite of features to capture customers' attention. It enables businesses to collect and store customer data, including contact information, communication protocols, and purchasing patterns, essential for establishing and sustaining successful customer relationships.
Moreover, CRM partners facilitate lead and opportunity management, helping businesses track and prioritize sales prospects.
Customer Relationship Management (CRM) software facilitates effective customer service by enabling the management of sales pipelines, the automation of follow-up, and the generation of sales projections. Additionally, CRM software facilitates the management of customer support tickets, the tracking of service requests, and the prompt resolution of issues.
Top 10 Industries Where CRM Enhanced Productivity
1. Retail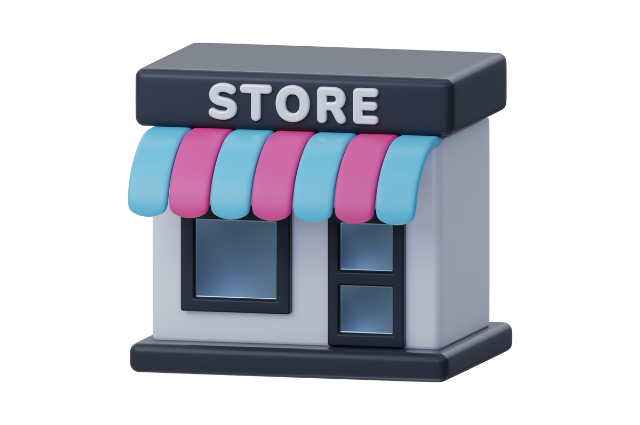 The retail sector's sales, marketing, and support departments require dedicated solutions with the help of Zoho sales CRM software. Users prefer leveraging inventory management to avoid last-minute out-of-stock cases through alerts and reminders. The built-in AI and seamless integrations to other applications further make CRM ideal for retail businesses.
Benefits of Zoho CRM to the Retail Sector
Inventory Management
Seamless Integration
Mobile Apps
Inbuilt AI
2. Real Estate
Businesses operating in the real estate industry must manage different types of customers depending on their interest in residential, commercial, or industrial properties. Thus, the actual estate-based Zoho CRM features offer all customers comprehensive and comparative property details. It is ideal for setting up your real estate CRM with modules like leads, contacts, documents, reports, activities, etc.
Benefits of Zoho CRM in the Real Estate Sector
Third-Party Integration
Complete Customization
Self-Service Portals
OmniChannel Communication
3. Logistics

Zoho CRM for industry solutions also serves the logistics sector. Notably, a diverse logistics sector requires the best features for digital transformation, customer expectations management, and handling new business models. Managing extensive unstructured data is possible using the Zoho CRM for logistics businesses. Hence, an effective CRM (like Zoho) ensures quality services promptly. The quick delivery of the shipments while staying high in the competition and managing the shipment's quality is all that businesses expect from the logistics partner.
Benefits of Zoho CRM in the Logistics Sector
Vendor Management
Supply Chain Management
Logistics Management
Custom Inventory Management
4. Telecom
One of the highly competitive businesses in the telecom industry is religiously leveraging the might of CRM software. It helps the communication sector reduce the number of cancellations, take less time to solve customer queries, and gather customer feedback for productive results.
Benefits of Zoho CRM to the Telecom Sector
High Level of Data Protection
Customized Audit Reports
Access Levels
External and Internal Collaboration
5. Healthcare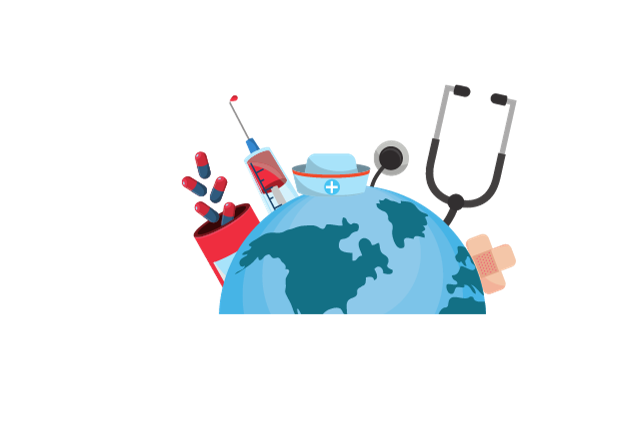 The challenging times of the COVID-19 pandemic have forced the world to seek the help of healthcare services that have created undue pressure on health systems. The Zoho CRM features offer omni-channel communication for handling sales, seamless integrations, and mobile accessibility to different healthcare companies. Thus, it is one of the much-needed reliefs to the healthcare industry.
Benefits of Zoho CRM in the Healthcare Sector
Custom Solution
Data Security
Multi-Platform Compatibility
Easy Access
6. Insurance
Zoho Customer Relationship Management (CRM) software is a comprehensive suite of tools designed to assist merchants and insurance agents in optimizing their commercial enterprise. It provides a range of features, such as automated advertising and marketing, email response, and mission control, to help companies better manage their leads, policies, and duties.
Benefits of Zoho CRM in the Insurance Sector
Sales Process Automation Workflow
Claim Control
Policy Facts Management
Insurance Program and Quote Control
7. Hospitality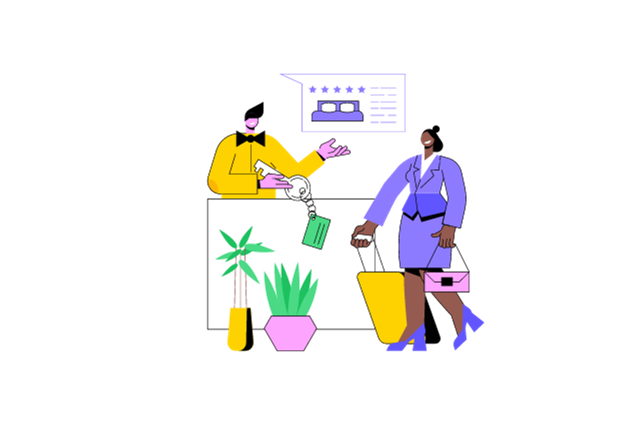 Hospitality software is essential for resort operations management, as it provides a comprehensive suite of features for reservations, room charge management, accounting, and housekeeping operations. This software offers a range of options for reservations, customer relationship management, housekeeping tasks, and other tasks. It is designed to streamline the process of managing a hotel's operations. It has guest folios, automated verification, enhanced deposit signals, an integrated point-of-sale (POS) system, and the capacity to share records between multiple structures.
Benefits of Zoho CRM in the Hospitality Sector
Personalized Experiences
Data Security
Best Customer Service
Automating Workflows
8. Travel Industry
If you're a travel agent, you want to be able to manage multiple transactions and get leads, clients, and vendors. But running a business without a dependable, all-in-one tool can be a real pain. We've created a CRM specifically for travel agencies called ZOHO. The enormous travel industry has made people want to travel away from home by cutting down on plane tickets, hotels, and food. But when it comes to travel agencies, it's because of the economy, competition, and supply issues.
If you're a travel agent, you must go through many steps to make a reservation. Talking to the customer and getting their approval is important, which makes trip planning so important. Zoho has designed a CRM specifically for the travel industry to make it more efficient and effective. It also helps with buyer control and marketing in the tourism industry so that you can stay ahead of the competition.
Benefits of Zoho CRM in the Travel Sector
Lead Management
Advanced Reporting
Streamlined Internal Productivity
Excellent Customer Service
9. Education Management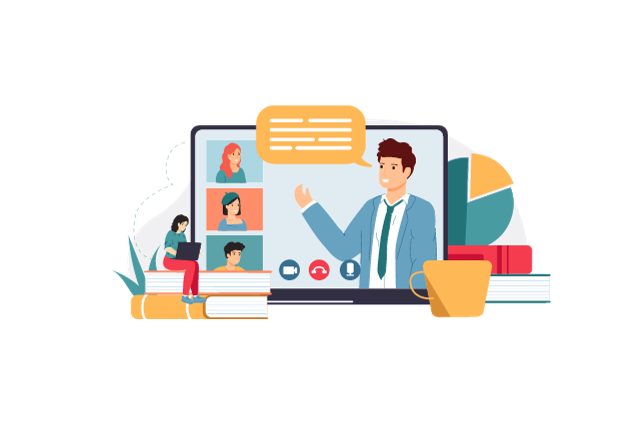 Educational executives are responsible for day-to-day operations, managing operations, and providing students with a high-quality education. Today, they can automate tasks such as collecting funds, enrolling students, and monitoring attendance, all with the primary goal of reducing workload and time. These applications have precise features that help stakeholders digitize and manage various functions within their colleges and universities.
Benefits of Zoho CRM in the Education Sector
School Management Pacakges
Class Schedule
Attendance Control
Assignment Monitoring
10. Small Businesses
Zoho is one of the best CRM systems for small businesses because it is the most affordable, efficient, and well-designed CRM system. It offers a wide range of features and customization choices for serious small business owners on a tight budget. The implementation method for small groups is simple. The easy-to-use CRM structures are a good option for small-to-medium-sized agencies because they are the most dependable CRMs available. It has incredible tools for selling channels, buying products, and managing leads and accounts. It also offers excellent website integration support.
Benefits of Zoho CRM for Small Agencies
Sales Forecast Report
Trades Tracking
Sales Productivity
Reports and Dashboards
Also Read: How Zoho CRM Can Help Insurance Agencies
Conclusion
Zoho CRM is a versatile solution that catalyzes productivity and efficiency across various industries. Its robust features empower businesses to manage customer relationships better, streamline operations, and gain valuable insights. From retail and real estate to healthcare and finance, the top 10 industries have harnessed Zoho CRM's capabilities to optimize processes, enhance customer experiences, and achieve sustainable growth.
Ready to Grow Your Business?
Contact CRM Master's Infotech, a Zoho Premium Partner, to take your business to the next level.