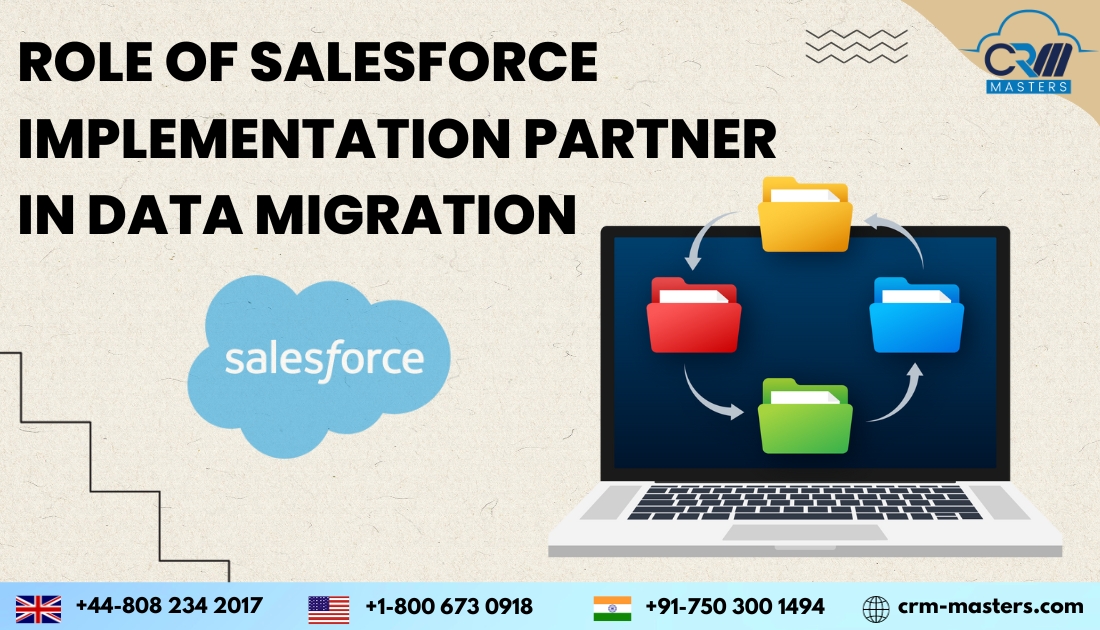 November 20, 2023

CRM-Masters

0
Role of Salesforce Implementation Partners in Data Migration
In today's rapidly evolving business perspective, Salesforce has become the foundation of successful customer relationship management and sales automation. Salesforce Implementation Services can significantly enhance operational efficiency and customer engagement.
However, one of the most challenging aspects of adopting Salesforce is migrating data from legacy systems into the platform. This is where Salesforce implementation partners play a necessary role by helping businesses carry out smooth data migration.
What is Data Migration?
Data migration is the process of transferring data from one system or platform to another, such as moving customer records, transaction histories, and other critical information from your existing systems to Salesforce. The significance of data migration cannot be overstated, as it ensures that your Salesforce implementation starts with accurate, up-to-date information. Without proper data migration, companies risk compromising data integrity, causing costly errors, and hampering user adoption.
Role of Salesforce Consultant in Data Migration
Salesforce implementation requires a well-planned strategy, and data migration is one of the crucial steps. Salesforce implementation partners play an important role in data migration and bring a wealth of experience, technical know-how, and a deep understanding of Salesforce's capabilities to the table.
Here are the detailed steps followed by the consultants:
Data Migration Strategy
Successful data migration begins with a well-defined strategy. A data migration strategy outlines the approach, methods, and tools to be used for transferring data to Salesforce. Salesforce implementation partners are skilled at crafting these strategies, ensuring your data migration process is carefully planned. Salesforce implementation partners consider factors such as data volume, quality, source systems, and target objects in Salesforce. An effective strategy helps mitigate risks, minimise downtime, and ensure a smooth transition to Salesforce. It is also essential for mapping out data transformation, data cleansing, and error handling procedures, which are all integral parts of the data migration process.
Data Mapping and Cleansing
Data mapping is the process of defining the relationships between data in your legacy systems and their corresponding Salesforce objects. It's a critical step because it dictates how data will be transformed and loaded into Salesforce. Salesforce implementation partners excel at this thanks to their familiarity with the platform's data structure and object relationships.
Data mapping & data cleansing is another essential aspect of data migration. This involves identifying inconsistencies & inaccuracies in your data. For many businesses, data cleansing can be a challenging task, but it's a task that Salesforce implementation partners handle skillfully.
Data Extraction and Transformation
Once the data mapping and cleansing are complete, the next step is extraction and transformation. Data must be extracted from the legacy systems, transformed to meet Salesforce's requirements, and then loaded into the Salesforce platform. This process demands a deep understanding of both the source systems and Salesforce and proficiency in data integration tools.
Salesforce implementation partners leverage their data extraction and transformation expertise to facilitate a seamless data transfer. They can handle various data formats, ensuring your data fits into Salesforce's structure. They also manage complex data migration, including previous records, attachments, and other related objects.
Testing and Validation
Once the data migration is complete, thorough testing and validation are essential to ensure the accuracy and integrity of the transferred data. Salesforce implementation partners are critical in conducting these tests identifying and rectifying any issues or discrepancies. The goal is to ensure that the data functions as intended within Salesforce and aligns with your business processes.
Go-Live and Post-Implementation Support
The final steps of data migration involve the go-live process and post-implementation support. The go-live phase is critical, marking the transition to using Salesforce as your primary platform. It's essential that this process is smooth and without disruptions. Salesforce implementation partners provide the necessary support during this phase, ensuring your team is well-prepared for the new system.
Post-implementation support is equally important. CRM Masters offer ongoing support to address any issues arising after the migration. We provide guidance, training, and troubleshooting, helping your team maximise Salesforce's capabilities.
Guides You with Data Migration Best Practices
Along with technical expertise, Salesforce implementation partners are well-versed in data migration best practices. They can guide your team in achieving a seamless and successful data migration, offering insights into industry standards and compliance requirements. These best practices help you avoid common pitfalls and ensure that your data migration project is a success.
Conclusion
The role of Salesforce implementation partners in data migration is significant. They bring expertise, experience, and a deep understanding of Salesforce to navigate the complexities of data migration. Partnering with these specialists ensures your data is accurately transferred, transforming Salesforce into a powerful tool for your business operations.
If you are looking for Salesforce Implementation Services, CRM Masters is a Certified Salesforce Consultant who helps businesses build CRM from scratch. We carry out everything with a well-planned roadmap, provide the best supervision needed, and consider feedback with continuous upgradation.