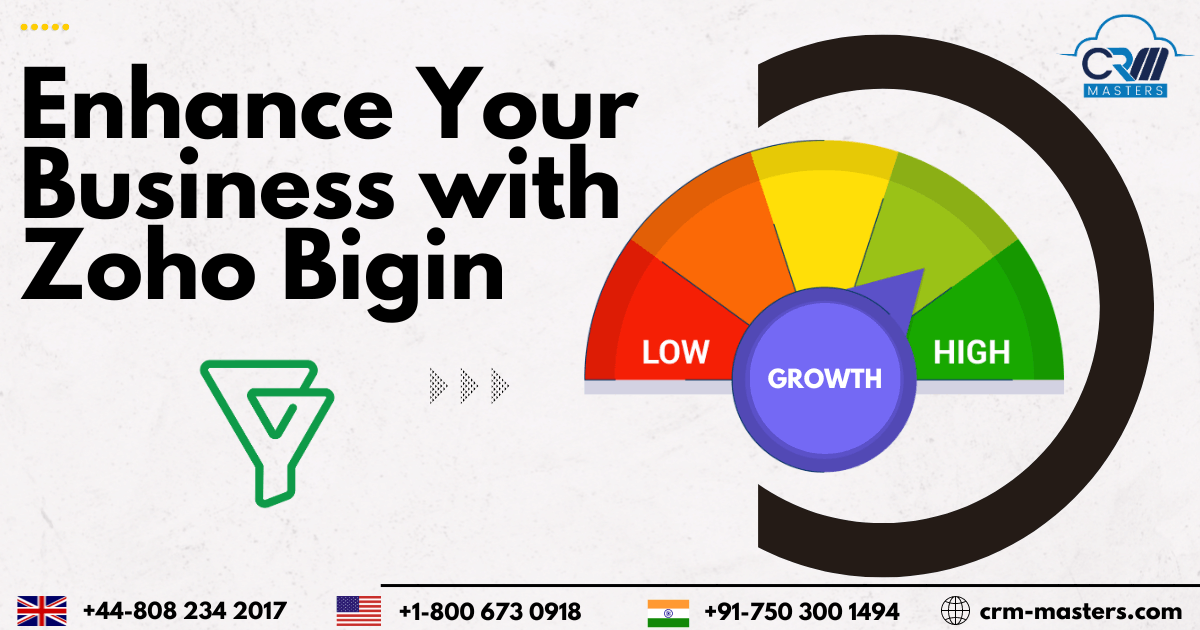 September 12, 2023

admin

0
If you are managing any small or medium-sized business, you must know that looking after the Sales Pipeline for different products, sales leads, and business data is pretty challenging. To solve all these issues, SaaS providers have developed cloud-based CRM, but a section of companies always want to avoid having a full-featured CRM and look for an affordable tool option that can easily manage their Sales Pipeline quickly. For this, Zoho CRM has rolled out Zoho Bigin- a Small Business-Centric Application that offers more flexibility and a broader range of features than standard office software and email clients.
What is Zoho Bigin?
Bigin is a pipeline-based sales customer relationship management (CRM) platform. Zoho developed the Zoho CRM Bigin with micro, small, and medium businesses to optimize their sales process. The rollout of the Bigin tool comes at a time when global enterprises are going through difficulties in digital transformation.
Bigin is a user-friendly CRM best suited for small businesses. The pipeline management capabilities of Bigin help businesses manage their customer lifecycle. Bigin makes the sales pipeline easy because you get all the tools and data in one comfortable place. You can easily migrate to contacts, companies, products, activities, and dashboards from pipelines to manage the entire sales funnel.
Meet Bigin by Zoho CRM
It is a pipeline-centric CRM for micro, small, and medium-sized businesses that need to optimize their sales by letting them ditch the cumbersome technology required to automate their Sales Pipeline. Since the learning curve to use Zoho Bigin is minimal, it becomes easy for SMBs to operate it on the cloud and get started for free. You can easily upgrade to a subscription package later, according to your business needs. It helps small businesses put customer data in one place and makes pipeline management a cakewalk. Plus, you can easily choose from real estate, software consulting, legal, insurance, etc. templates for sales management.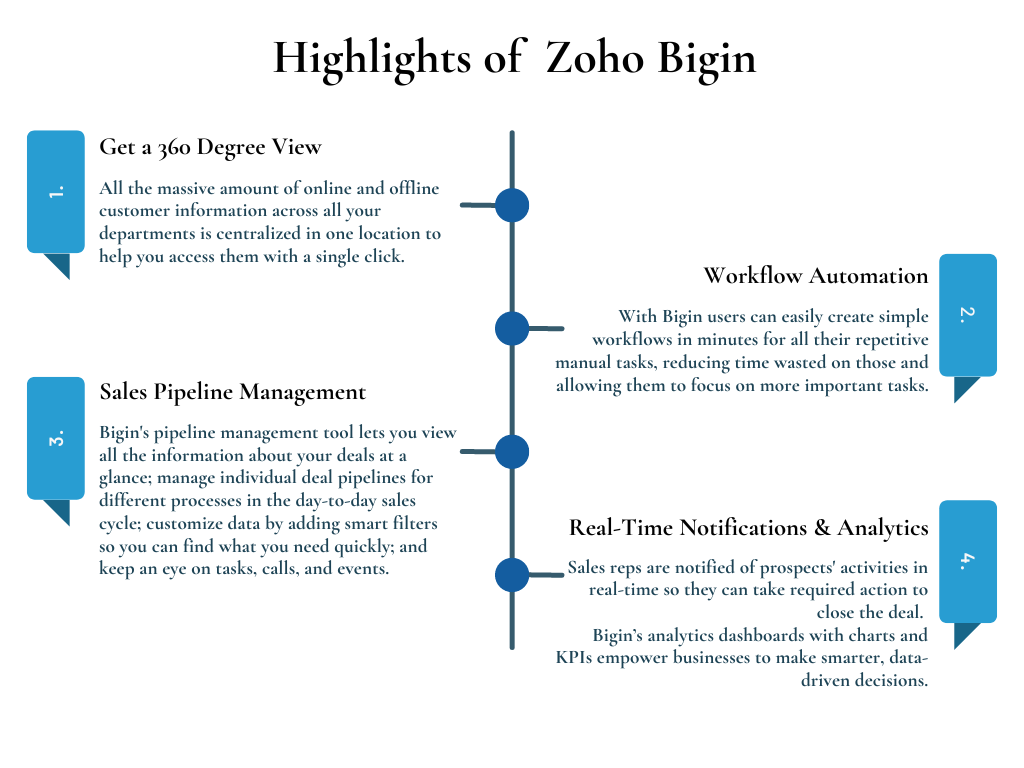 Benefits of Zoho Bigin
Economical
While enterprise-level businesses have the investment and resources to continue the company even after losing their revenue, SMBs need to reconfigure the sales pipeline, which costs them income. Keeping this in mind, Micro and small-sized businesses can try the core features of Bigin for free. The free plan includes 500 records, 1 Sales Pipeline, 3 Sales workflows, customer calls, Zapier integration, Zoho forms, and Android and iOS applications. Express and Premium plans provide other add-ons to upscale your business, like file storage, additional records, and one-time data backup.
Easy to Use
You do not need to train your sales team as it has a similar intuitive interface to a spreadsheet. You can easily catch up with it without any impact. You can choose a pipeline template that matches your business or can cater to it according to your business needs.
Data Protection
We all know that organizations follow hierarchies based on roles such as CEO, manager, sales representative, etc., which means each will have different access requirements than others. Therefore, Bigin lets you secure your data by restricting your organization's data access to particular users using roles and profiles in Bigin.
Application Functionality Package
It's got everything you need to run a successful sales team without having to worry about complicated workflows and modules. It's got emails, social media info, voice calling, surveys, data compliance, and audit tools, and it all works on the cloud and you can download it right away in report forms.
If you're running a small-to-medium-sized company, you'll know that managing your sales pipeline for various products, leads, and business data, can be difficult. That's where SaaS-based cloud solution CRMs come in and solve many of these problems, but a segment of companies always want to avoid a fully-fledged CRM and are looking for a cost-effective tool that can quickly handle their sales pipeline. Zoho CRM has launched Zoho Bigin – a small-business-focused application that provides more flexibility and features than your typical office software or email client.
How to Enhance Your Business with the Zoho Bigin
There are various Zoho Bigin features. We have listed a few features of Zoho Bigin that help you enhance your business around the world.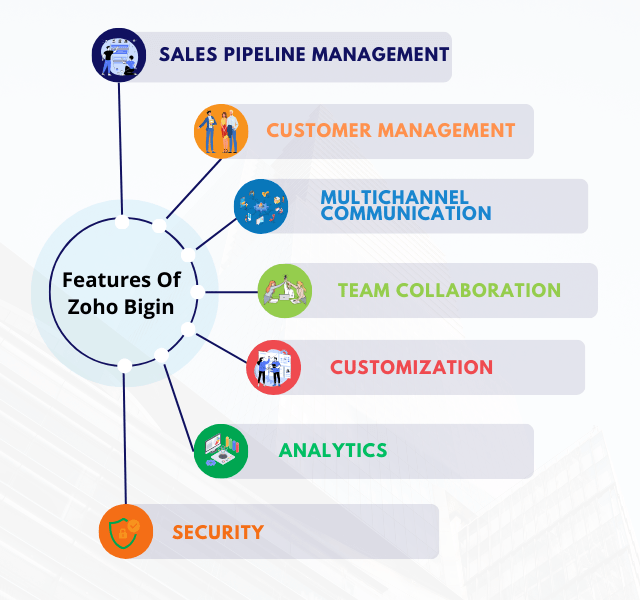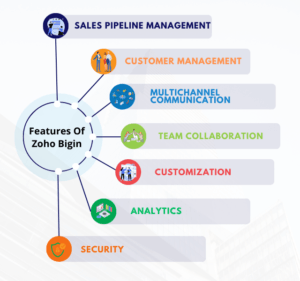 Sales Pipeline Management
Team Pipelines: You can Integrate all your customer-facing processes with team pipelines. With your bigin account, you can be the one-stop shop for your customer data, backed up by several customer-facing teams.

Connected Pipeline: You can track your customer's progress from beginning to end by using workflow automation to keep track of their progress through team pipelines.

Task Management: You can Manage Your Tasks and Activities from your pipeline. Create, follow up, finish, and delete tasks in minutes with a few clicks.

Products: You can Build a product pipeline, automatically link products to new offers, and track your sales.
Customer Management
Import, Export, and Migrate: You can also drag and drop data from spreadsheets directly into the Bigin account. You can also export data from Bigin modules and save them for future use.
Forms: Create custom forms in a fraction of the time, share them across all channels, and get a full picture of your customers and prospects.

Stay Connected in Real-time: With Bigin's Signals, you can get notifications in real-time for new emails, calls you missed, and other types of updates.
Bigin add-on for Gmail: You can use this feature to automatically capture your Gmail contacts without having to switch between apps.
Multichannel Communication
Built-in telephony: Your leads and customers are just a ring away! You can connect with them over calls from within your CRM via Bigin's Built-in telephony.
Email: You can automatically associate incoming emails to contacts in your CRM, and analyze the effectiveness of your campaigns with email insights.
Twitter: You can build your business with one tweet at a time! You can stay connected with your leads, customers, and Twitter from your bigin account.
Virtual Communication: You can Host customer meetings and conferences within bigin through our Zoho Bigin integrations with Zoho meetings, Microsoft Teams, and Zoom.
Team Collaboration
Activity Management: You can keep track of all your important tasks, phone calls, and dates. You can let your team know with mentions and work together quickly with Zoho Bigin.
Team Pipelines: With team pipelines, you can gain complete visibility into customer data and gain greater insight into the performance of each of your customer-facing teams.
Integration with Microsoft Teams: You can now manage your bigin account's customer data at the same time when you're on a call, chat, or meeting in Microsoft Teams.
File Cabinet: With a single link, you can share and collect leads and customer documents and make them available to all your teams in your Bigin account.
Customization
Fields and Modules: Create modules and fields that reflect the specific needs of your business.
Tags and Notes: Colored tags allow you to quickly tag records and leave comments so that your team members can keep track of everything.
Multi-Currency: You can negotiate in international currencies based on the location of your customers while also establishing a domestic currency for your business.
Merge Templates: Integrate Bigin with Zoho Writer's merge template feature to personalize your documents faster than ever before.
Analytics
Dashboards: You can track, analyze, and measure your key performance indicators in one central location and gain greater insight into your business at any time, from anywhere.
Zoho Bigin Integration with Zoho Analytics: Integrate Zoho Bigin and Zoho Analytics to turn your customer's data into real-world actionable insights.
Security
GDPR: Bigin ensures consent-based collection and transparency of your customer data to help you remain GDPR-compliant.
HIPAA: Bigin's HIPAA compliance features allow you to mark fields containing personal health information limit access to personal health information encrypt personal health information.
Conclusion
Zoho Bigin is a powerful tool that significantly enhances your business operations. With its user-friendly interface, Bigin makes it easier to manage your leads, track your sales pipeline, and nurture customer relationships. Whether you're a small startup or an established enterprise, this CRM solution offers the flexibility and scalability to meet your unique needs.
If you are looking to take your business to the next level and establish stronger connections with your customers, give Zoho Bigin a try. It might just be the game-changer your business needs to thrive in today's competitive market.
If you need help incorporating Zoho Bigin into your business. Feel free to reach out to CRM Master's Infotech. We are a Zoho Premium Partner that helps you in every step to take your business to the next level.