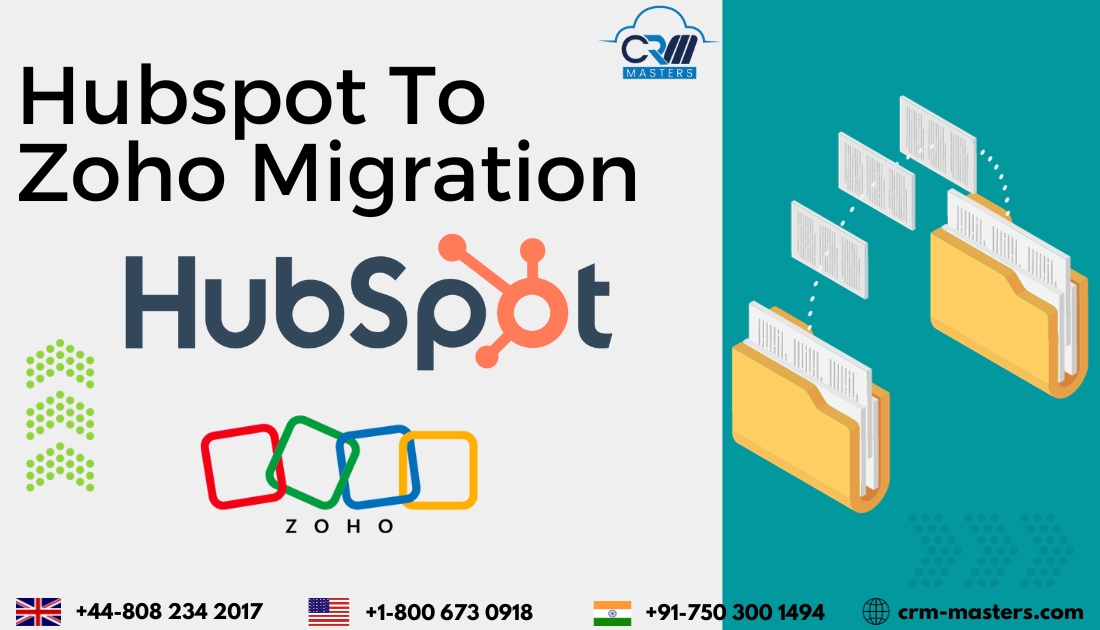 November 14, 2023

admin

0
Process To Follow Before HubSpot to Zoho CRM Data Migration
Migrating from Hubspot to Zoho CRM becomes a difficult task. A successful CRM migration requires a consultation Partner for strategic planning and execution to ensure a smooth transition.
One of Zoho's strengths in the CRM migration data layer is that it doesn't require you to start from the beginning. Zoho allows you to migrate from various CRMs, including Hubsot.
If you want to see how it works, Read the blog below on migrating data from your Hubspot to Zoho's CRM.
HubSpot to Zoho CRM Migration
Transferring data from Hubspot to your Zoho CRM is a process that requires careful planning, execution, and data management. It involves transferring different data types, such as customer contacts, leads, deals, notes, tasks, etc. To make this transition easy, follow these steps:
1. Assess and Plan
Begin your migration journey by thoroughly evaluating your current HubSpot CRM environment. Determine what data you want to migrate, assess the data quality, and identify which parts of your business operations need to be maintained during migration. This thorough planning phase will be the basis for the entire migration process.
2. Map Your Data
Data mapping is the process of determining how the data in HubSpot CRM matches the fields and structure of the Zoho CRM data. It is important to have accurate data mapping to ensure data alignment and avoid data inconsistency and data loss during the migration process. Detailed data mapping reduces mistakes and ensures a smooth migration.
3. Extract Data
Export your identified HubSpot CRM datasets to a Zoho CRM-compatible format. You may need to export CSV files or use migration tools that make it easy to extract data.
4. Cleanse and Transform Data
Clean and transform your data before migrating it to Zoho CRM. Standardize your data formats, eliminate duplicate records, and ensure data integrity during migration.
5. Import Data into Zoho CRM
With the help of Zoho CRM, you can easily import data from different sources. Use Zoho's import features while remembering the previous data mapping to transfer data accurately and efficiently.
6. Validate Data
Once you've imported the data, complete the validation process to ensure it's accurate and complete. This helps you spot potential problems and ensures that the data you're transferring matches your business needs.
7. Customize and Configure
Take advantage of Zoho CRM's customizable features to customize the platform to fit your business requirements. Set up fields, workflows, automation rules, and more to replicate HubSpot CRM features within the Zoho platform.
8. Test and Train Users
Test thoroughly to ensure everything is working properly before using Zoho CRM. Additionally, give your team members enough training to get them used to Zoho CRM's interface and features.
9. Go Live and Provide Post-Migration Support
Now that you've completed the testing process and had your team trained, it's time to start. Keep an eye on the transition and give us a hand if you have any questions or issues during the first few days.
Advantages of Data Migration from Hubspot to Zoho CRM
Before we get started, let's look at some of the biggest advantages of moving from Hubspot to your new Zoho CRM. Your CRM plays a vital role in your business, so ensuring that the system you've chosen is the right fit for your business objectives is important.
Here are some of the top reasons why you should go with Zoho instead of Hubspot for your CRM: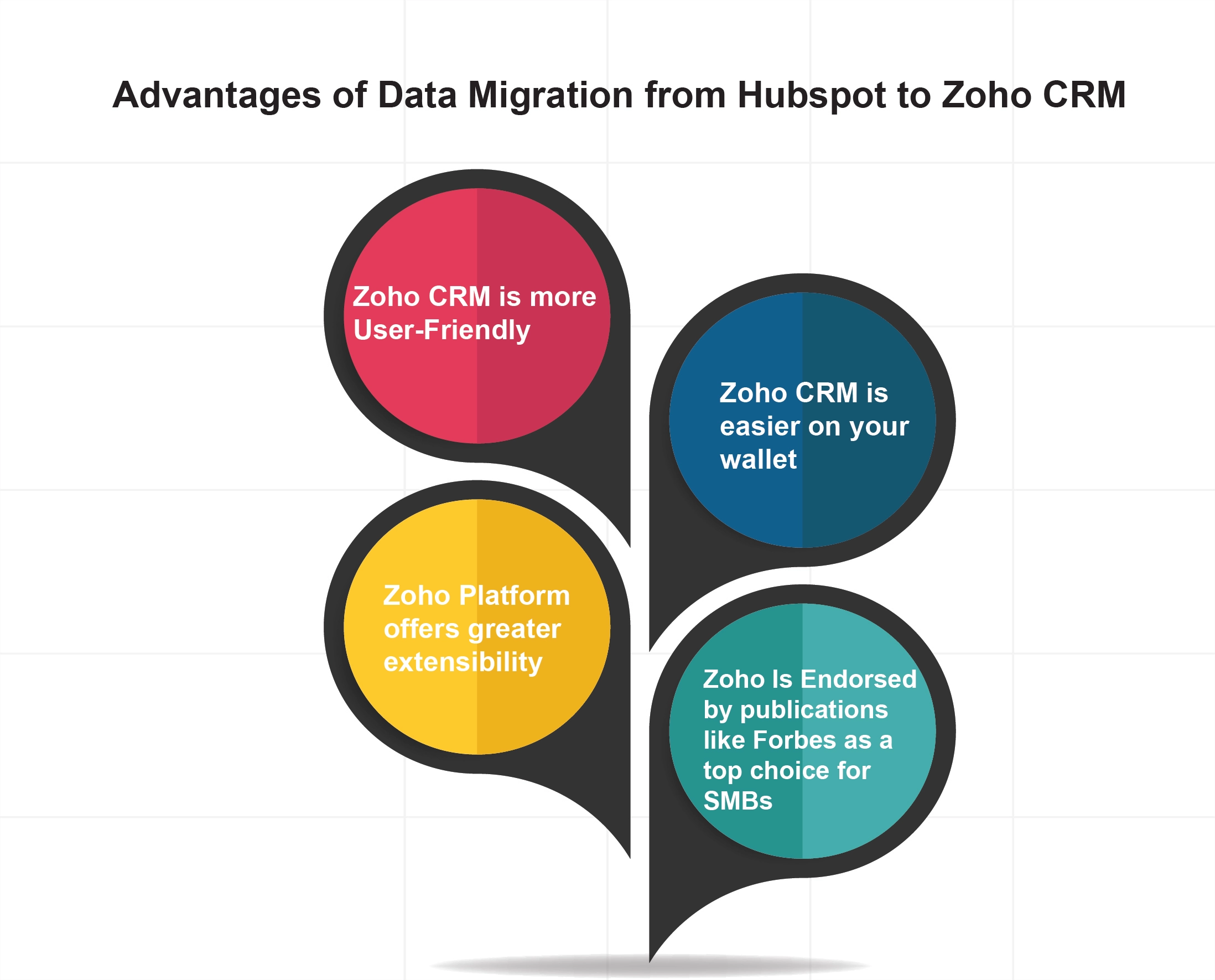 1. Zoho CRM is more User-Friendly:- Zoho CRM supports team collaboration across all tiers, while Hubspot only allows collaboration on the top-tier plans.
2. Zoho CRM is easier on your wallet:- In addition to the longer free trial period, Zoho offers a variety of pricing tiers for its CRM, ranging from a free version to an enterprise version. Hubspot's entry-level paid plan for two users starts at $45 monthly.
3. Zoho Platform offers greater extensibility:- Zoho CRM works seamlessly with your company's other applications. Hubspot has sales, marketing, and operations modules but doesn't have comparable solutions for inventory, HR, legal, and security.
4. Zoho Is Endorsed by publications like Forbes as a top choice for SMBs:- Due to its cost-effective and adaptable features, Forbes has named Zoho CRM the best CRM for SMBs in almost every sector.
Why CRM Migration?
As your business grows, you need a more robust solution because your current CRM platform isn't up to the task. Zoho CRM offers many features and customizations, making it an ideal choice for businesses that want to improve customer engagement.
Hubspot to Zoho CRM Data Migration Process
Data migration is transferring all your data from one platform (in this case, Hubspot CRM) to another (Zoho CRM).
The Data Migration wizard in Zoho CRM will help you move data from Hubspot to your Zoho CRM precisely and efficiently. The wizard will map your import files into Zoho CRM if you have standard modules. It will ensure that the file columns match the Zoho CRM field.
Zoho CRM creates the modules and maps the files to them. Zoho CRM reports the number of mapped, unmapped, and unsupported files.
If you need to migrate multiple applications, you can contact one of Zoho's premium partners, such as CRM Master's Infotech, Zoho's top-rated Consulting Partner.
Migrate from Hubspot to Zoho CRM
From a technical point of view, the Data Migration wizard of Zoho CRM uses APIs and instance URLs to migrate your HubSpot data to Zoho. Therefore, you will start the migration process by generating and inputting the API key and then completing the migration in the backend.
You will receive an email upon completing your migration, and you can undo or re-run your migration up to 3 times.
STEP 1:- Generate the API Token
Login to your Hubsot Account
Click Account Name on the top right corner and select Integrations
Click API key
Click Generate an API key
Click Copy
If you have previously created an API key, click Show, then Copy. You will also capture the Instance URL in this process.
STEP 2:- Initiate the Migration
Once you have the API Key and the Instance URL, you can:
Log in to Zoho CRM (make sure you have administrator privileges)
Navigate to Setup > Data Administration > Import
On the Data Migration Page, Choose Hupspot as the CRM you are importing data
Enter your Instance URL and the API token you created in Hubspot.
Click Migrate Now
Once you've completed your migration, you'll receive a notification via email and pop-up.
STEP-3:- Check Your Data Migration
Importing Hubspot data is easy with Zoho's Data Migration wizard, but it still requires good practice to double-check your data after the migration is done.
To do this, go to Data Administration Data Administration Import > Import History. You have to make sure all fields are imported correctly. Spot-check each record. Then, go to several people and accounts and see if they match their Hubspot records.
Zoho CRM lets you undo or run the migration multiple times, but only once. If you don't like the import results or the field mapping, you can remove the imported records and re-run the migration.
CRM Master's Your Trusted Partner for Seamless Migration
Migrating to a new CRM system can be intimidating, especially if you're unfamiliar with the process. That's where CRM master's infotech comes in. We've been in the business of CRM solutions for years, and we know what it's like to want to move your business from one CRM system to another. Our experts will ensure you have a seamless transition that preserves your data integrity and allows you to make the most of HubSpot's capabilities.
If you have any queries or would like expert assistance while you migrate from HubSpot to the Zoho CRM, contact CRM Master's Infotech, Zoho Premium Partner, for further assistance.