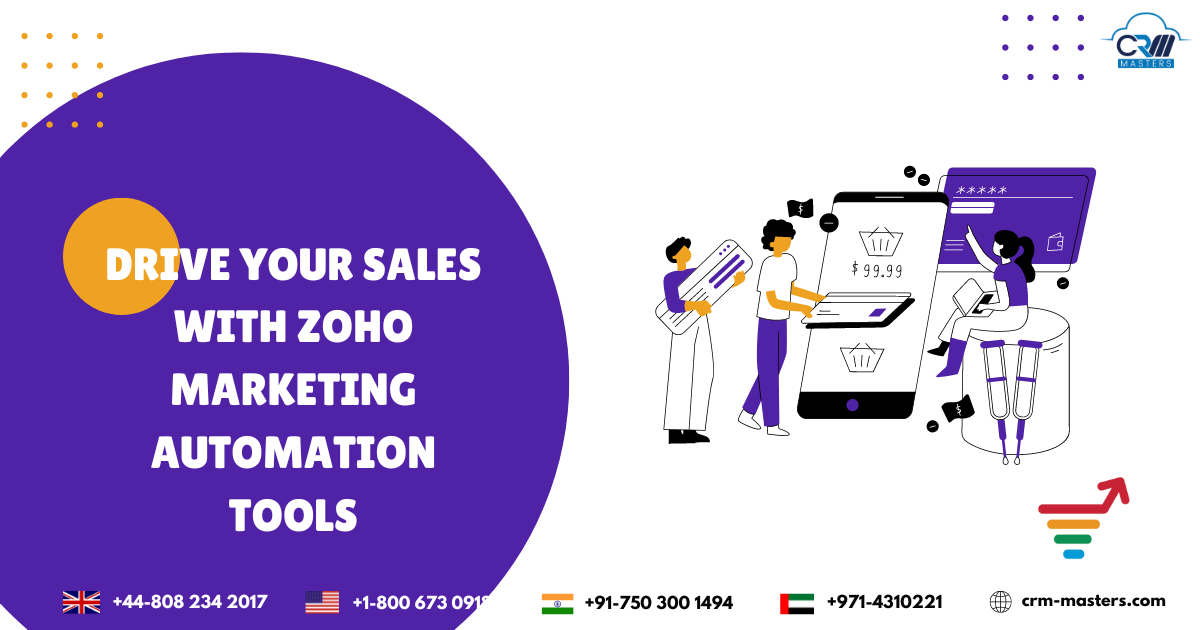 Zoho is a cloud-based software company that provides productivity and collaboration tools. Among those tools is Zoho Marketing Automation, an easy-to-use, powerful tool for growing businesses. It streamlines marketing processes and helps companies manage customer relationships. It also offers lead capture, tracking customer behavior, email marketing, and sales force automation. By saving time with this tool, you can spend more time on the aspects of your business where you need people to engage directly.
Despite its best-in-class features and easy integrations, clients aren't always using Zoho to its full potential. This blog will discuss a few steps to drive sales and increase leads using Zoho Marketing Automation to capitalize on this.
But before that, let us look at the activities involved in marketing automation, as it is a lot more than that email marketing campaigns and social media management.

Now let's move forward with the steps:
Also Read: Useful Zoho Products and Its Key Features
4 Steps to Gain and Retain Leads with Zoho Marketing Automation
Step 1: Build Web Forms In Zoho CRM
Since web forms are at the core of marketing automation, the first step is to build them in Zoho CRM without writing code. Using the simple drag-and-drop editor, you can customize the web form design to include the required fields for your marketing strategy. These forms can then be embedded into WordPress, Facebook, and other platforms, thus eliminating the need for third-party integrations.
The Zoho CRM captures lead information directly from web forms, assigns leads to sales representatives, and improves lead generation based on the results.
Step 2: Setup Pop-Up Forms
You can easily create pop-up forms with Zoho Campaigns and Zoho Marketing Hub. First, embed pop-up forms into the HTML code of your website. Afterward, configure the pop-up conditions, so they appear at specified times – such as on page load or exit. The drag-and-drop builder in Zoho allows you to design a template tailored to your brand or create one from scratch.
It is essential to make an appealing call to action if you want to use pop-up forms to drive subscriptions and grow email lists.
Step 3: Create Email Campaigns
Email campaigns are one of the best ways to utilize Zoho's marketing automation features. The process of creating emails with Zoho Campaigns is relatively easy and is similar to those of most other automation services. Analogous to pop-up forms, you can choose from a variety of templates or create your own in an HTML code editor or import pre-designed HTML files. You can then use the workflow features to automate the email contact and follow-up process and to customize emails based on website behavior and interactions with previous emails once you've set up your email campaign.
Step 4: Utilize Workflows
In Zoho Campaigns, automated workflows allow you to set up tasks automatically performed when certain conditions are met. First, configure your CRM workflows so that email list invitations are sent out automatically when a lead is created. After that, set up your workflows to send a "discovery call" email to leads once they reach a specific score. With a drag-and-drop builder, you can create custom workflows or customize them with various prebuilt templates.
Once you have these in place, schedule drip emails, create refined workflows based on leads' responses or interests, and apply lead scoring based on their actions. This makes it easier to execute your marketing plan without dealing with each task individually.
Conclusion
By far, we have seen how Zoho CRM focuses on enhancing sales while Marketing Automation works to generate and qualify leads. And thereby we hope you have now understood some of the intelligent ways you can keep in mind for lead generation and conversion.
We, CRM Masters, are Zoho Premium Partners. And thereby hold profound expertise in Zoho. Solutions tailored by our experts for your business will indeed leverage the power of Zoho for you. Let us know if we can help you or provide assistance in any case.