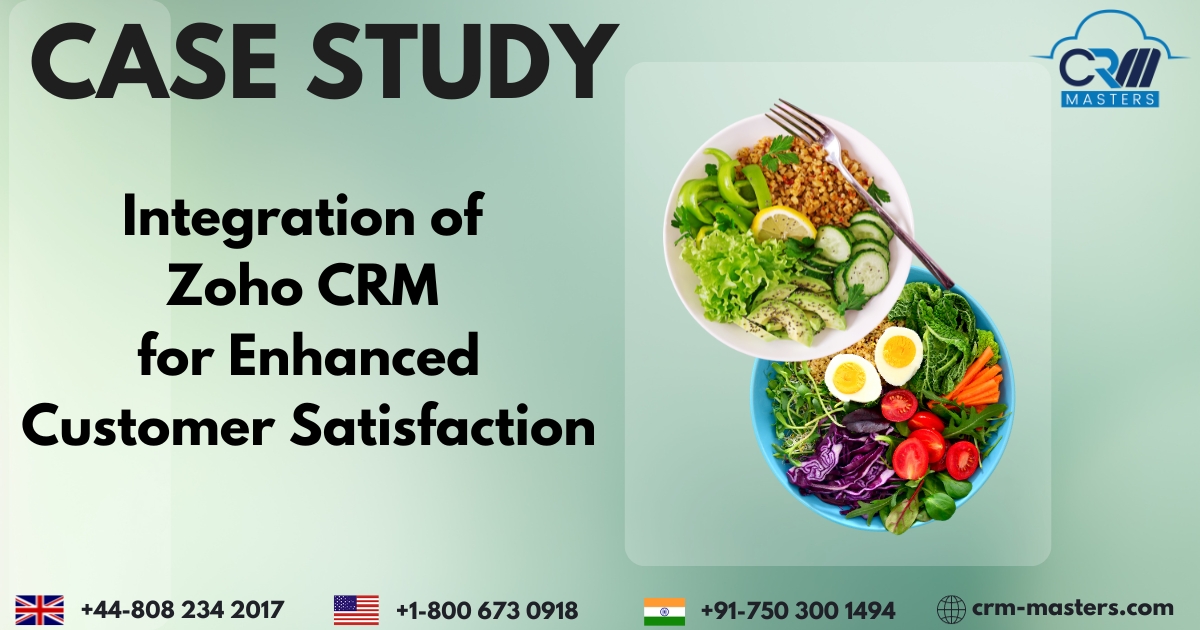 November 8, 2023

CRM-Masters

0
Case Study Of Food Tech Company In Saudi Arabia
B2C (Business to Customer)
Zoho Books, Zoho CRM, Zoho Inventory
Our client, a restaurant chain in Saudi Arabia, has been serving healthy & delicious meals to adhere to a healthy lifestyle since 2017. They have gained recognition for their commitment to promoting a healthy lifestyle through their offerings, including monthly subscription packages and customised healthy meals tailored to individual customer preferences.
Our client serves customised meals and faces meal customisation issues in the system, including daily report generation from 11 live branches and much more. The manual handling of meal customisations disrupted kitchen operations, which not only consumed valuable time but also introduced the risk of human errors. Our client had unique customer demands, and ensuring each customer received their desired meal was critical to upholding the restaurant's brand image.
Meal Customization Issue in System
The client's challenge with meal customisation in their system was complicated. They wanted the flexibility to customise orders for every customer according to specific dietary preferences, ingredient choices, portion sizes, and more.
Managing 11 Live Branches Systematically
Operating 11 live branches presented the client was facing data management issues on a daily basis. Each branch had unique operational demands, customer preferences, and inventory management needs.
Daily Records of Orders and Zoho Books Integration
The client needed daily records of orders to track their operations effectively and maintain financial records accurately. These records needed to be seamlessly integrated with Zoho Books, their accounting system, which received data from the third-party app Foodics.
Difficulty Managing Discounts and Coupons on Website
Managing discounts and coupons effectively on the client's website was a critical aspect of their marketing and customer retention strategy.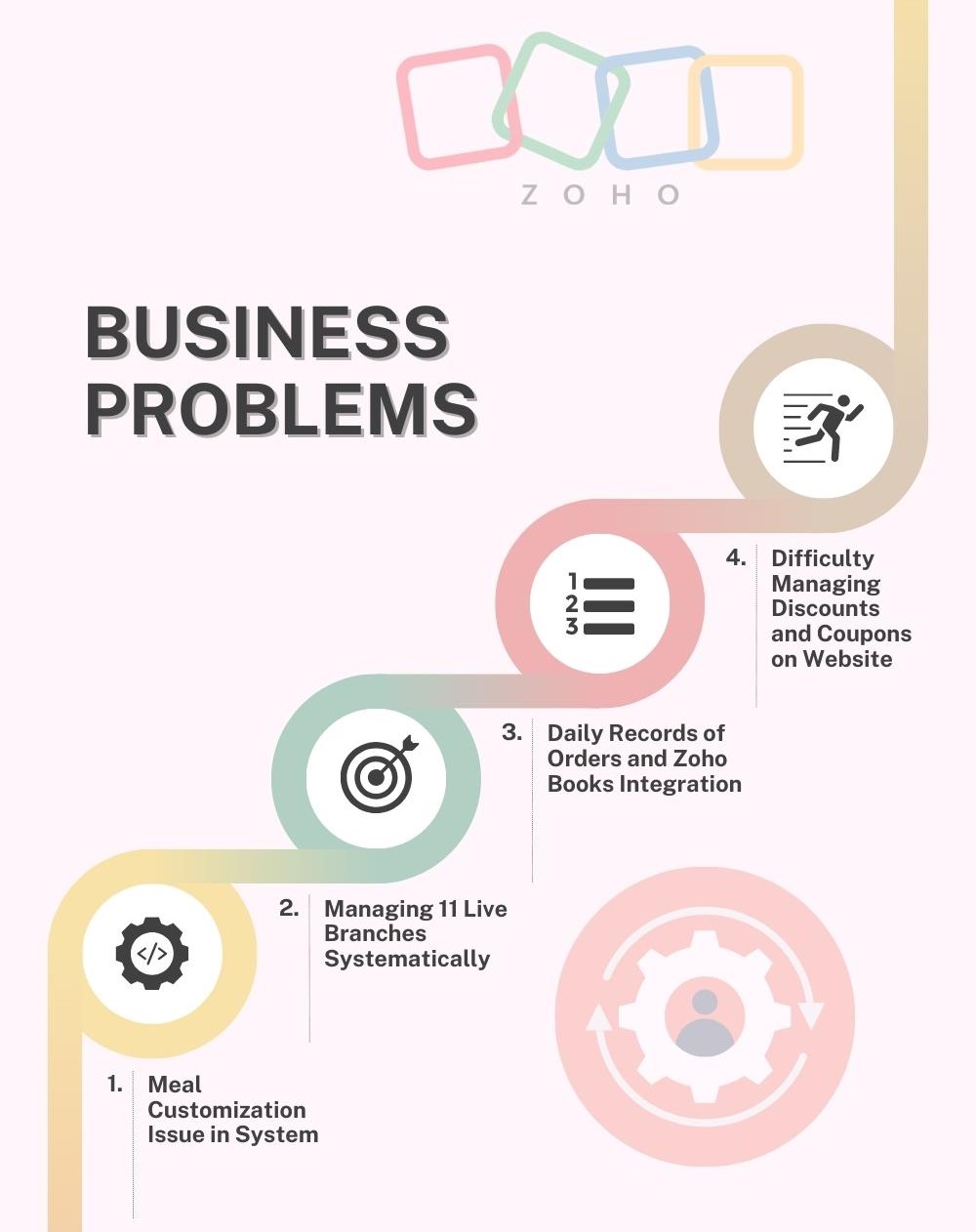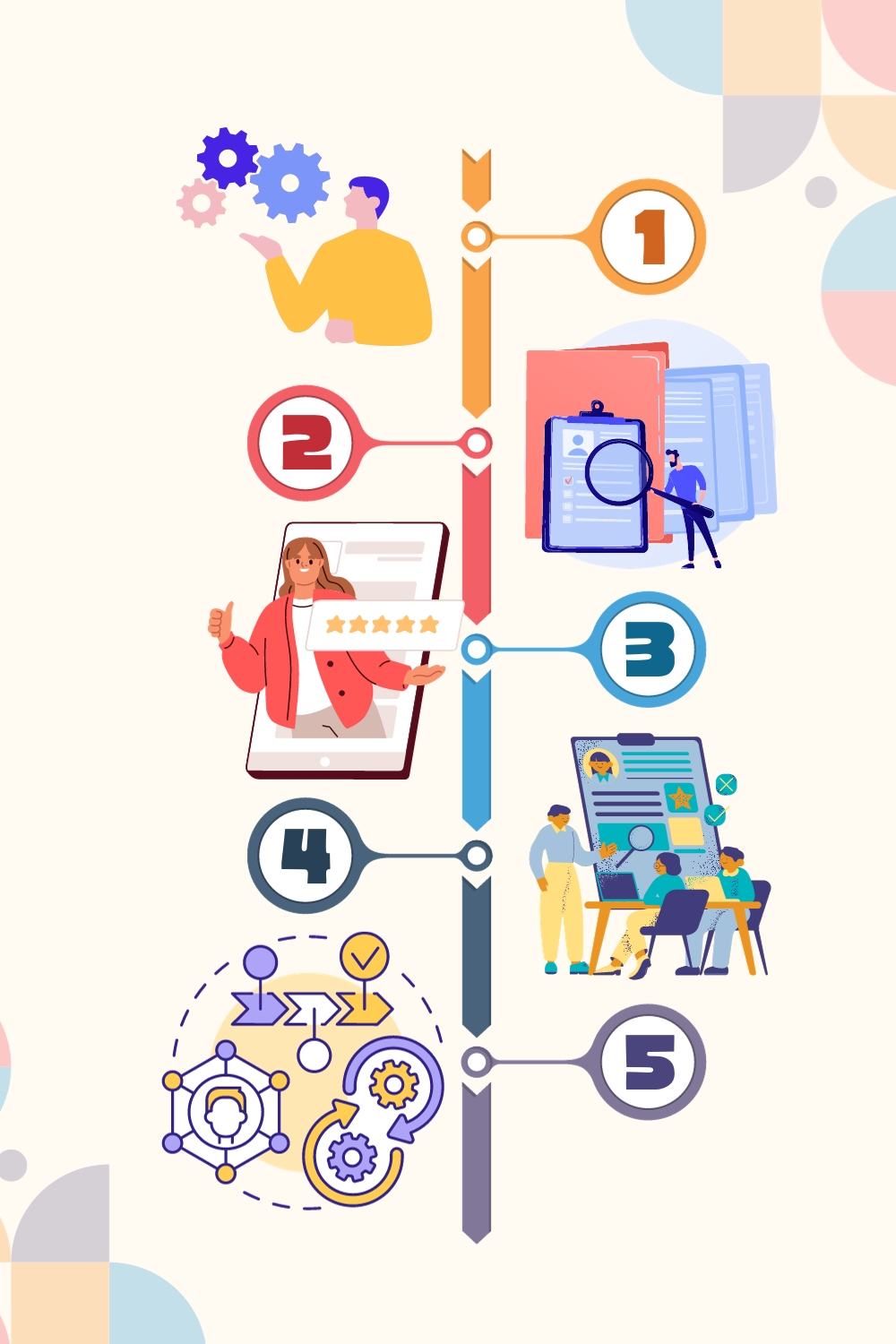 HTML/JS Meal Customization Form
A user-friendly HTML/JS form was developed to enable customers to customize their meals. This form was integrated with Zoho CRM to ensure that customer preferences and orders were accurately recorded.
Automated Daily Reporting
A total of 22 different cron jobs were set up on the servers to generate daily meal reports for all 11 restaurant branches. This ensured that the client had up-to-date data on their daily operations.
Discount Coupon Module in Zoho CRM
A new module was created within Zoho CRM to manage discount coupons according to the client's preferences. This module was seamlessly integrated with the HTML/JS form, with multiple validation checks.
Tap Payment Integration with HTML Form
Integration with Tap payment features was done to provide customers with a smoother payment experience. This integration improved the overall efficiency of the payment.
Zoho CRM to Foodics App Integration
Our team integrated Zoho CRM and the Foodics app, resolving the client's issues related to order syncing. This integration ensured that orders seamlessly flowed from the Foodics app into Zoho CRM.
Streamlined Meal Customization
Implementing the HTML/JS Meal Customization Form revolutionised our client's approach. Customers could now easily personalise their orders, specifying dietary preferences, ingredients, and portion sizes.
Efficient Branch Management
Our automated daily reporting system addressed the challenge of managing 11 live branches systematically. This improved operational efficiency to, reduced bottlenecks, and ensured a consistent and exceptional customer experience across all branches.
Seamless Integration with Zoho Books
Our integration solution between the daily records of orders and Zoho Books streamlined financial processes. The client gained a clearer financial picture, enabling better planning and decision-making.
Enhanced Synchronization in System
Our team successfully resolved the challenge of synchronising meal orders from third-party applications to Zoho Books. The enhanced synchronisation greatly improved operational efficiency and financial transparency.
Our team has managed to give our client the best solution for their business needs, we successfully addressed all the business requirements:
Significant improvement in customer satisfaction.
Improvement in decision-making with real-time insights.
Enhanced marketing and customer retention rate increase
Achieved Accurate Financial Records
The synchronised system is achieved across all the branches.
CRM Masters Infotech is a leading technology solutions provider specialising in CRM, automation, and integration services. Our team of experts is committed to delivering tailored solutions that empower businesses to thrive in today's competitive landscape. With a track record of successful projects across various industries, we continue to drive innovation and excellence in the world of technology.
Projects
Recent Portfolios